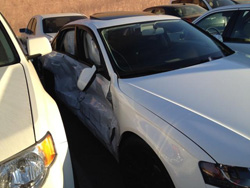 You just wrecked your car and after a repair quote that made your wallet hurt you decide against fixing it. Your local body shop offers to buy it from you - they are your "friend" and are giving you a "good deal", right? WRONG! Why would a business give you a deal that would hurt them? They wouldn't. Instead call a real friend in the car buying business.
DamageMAX is that PLACE! DamageMAX buys ANY WRECKED, BROKEN or PROBLEM vehicle – anywhere! Call 888-629-3127 or visit damageMAX.com today. Certified DamageMAX Buying agents are standing by 7 days a week to give you a FAST, FREE, NO OBLIGATION quote on your wrecked vehicle. Just send over pictures and we will make you an on the spot offer for your wrecked vehicle. We can even get you the money as early as THE NEXT DAY! If you decide to sell to us DamageMAX will even pick up your wrecked vehicle FREE of charge!
DamageMAX is the leading national buyer of damaged, broken and problem vehicles in the USA. For more information, visit www.damagemax.com and experience the DamageMAX Difference!