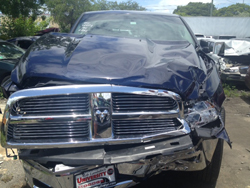 This is gonna rattle some cages and we don't care because it really is a huge problem. When you live in a glass house, maybe it's not such a good idea to throw boulders??? CARFAX portraits car dealers as the ultimate scum in their TV ads. That's right folks, CARFAX will have you believing that every car dealer is here to defraud innocent people, anyway they can, 24/7/365 by selling them salvage, flood-damaged, burdened-out cars and other extreme total loss vehicles KNOWINGLY. Here is a great example of something CARFAX does not want you to know about.
You see CARFAX is not as accurate as they would have you believe on TV! IF you read this article, you will also see the curtain that they hide behind and the excuses that they offer for their inaccurate vehicle history reporting.
CARFAX charges car dealers a lot of money to access their vehicle history reporting system–#TRUTH
CARFAX leverages the consumer (like the young man in the attached article) to coerce dealers and other businesses into using it's products - #TRUTH
Then CARFAX leaves EVERYBODY hanging out to dry (see above example)
Dealers PAY for CARFAX and presume that a vehicle is accident free and represent it as such, yet they bear the brunt of having to correct bad financial deals like the one featured here.
Vehicle History is a big deal people and the STIGMA associated with an accident alone costs consumers billions of dollars per annum. CarBuyerUSA touches hundreds of customers per day and the ones with accidents all understand that their vehicle is worth SIGNIFICANTLY LESS than if it were accident free. When you factor in 2 accidents with 5 figure repairs each time, you have a car that should be SALVAGE. CARFAX missed not one accident, but two accidents totaling to over $20,000 in repairs which exceeded 100% of the fair market value of the vehicle.
Don't get me wrong, CarBuyerUSA.com thinks that VEHICLE HISTORY REPORTS are a good thing. Accuracy is critical however and CARFAX should be held accountable by CAR DEALERS and the public for missing this big. CARFAX should back this transaction, not throw its' hands up in the air and say "oh well, we missed that one – ooopppppsss".
Maybe circumstances like this one will force CARFAX to be accountable in the future.
My wager is that CARFAX winds up making some restitution to car dealer and the american public.
Visit www.damagemax.com or call (888) 629-2137 for additional information
Permalink
|
|