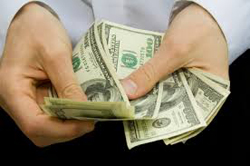 If you just had a car accident you need to act quickly and decisively. Time is your enemy and chances are your vehicle was towed to a storage facility, racking up all sorts of ungodly fees. You are unsure whether you should fix the vehicle and its not up to you anyway, the insurance company decides your fate - if you have collision coverage. Either way, you know you are going to write a check for that $1000 deductible you opted for to save a few extra bucks on your monthly insurance bill. DamageMAX says…Never Pay Your Deductible again! Don't look for a collision repair shop that will "hide" or "bury" the deductible somewhere because you will just get substandard repairs, parts or both. Never Pay Your Deductible by selling your damaged car or damaged truck to DamageMAX. We are the Damaged Vehicle Experts and we know how to Value Your Wrecked Vehicle. DamageMAX will give you cash for your damaged vehicle and get you out of paying $1000 to get your car repaired and back on the road. Keep that $1000 deductible check plus the insurance repair check and the DamageMAX check for your wreck and go get yourself a new vehicle.
Never Pay Your Deductible – sell your wrecked car for cash now!
Call (888) 629-2137 or visit www.damagemax.com for an immediate cash offer.