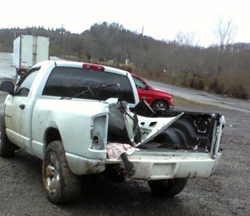 If you are searching "find a body shop" or "Collision Repair" in your home town you are about to make a poor choice…
If you like drinking day old coffee and eating stale peanuts from a vending machine that hasn't been stocked since the 80's, find a body shop near you!
Face it folks, you are going to wait and wait and wait for your car to be repaired. Most collision damaged vehicles take weeks or months to repair when you factor in accident tow, estimate, 2nd tow to body shop, first repair, supplemental repair and cleanup. Our research shows that you will wait one day for every $100 in repairs. Imagine a $10,000 repair–that means 100 days in a rental car while you make car payments–that is crazy!
You have an econobox rental–that you may be stuck paying for, your garage remote and booster seats are locked up in the body shop and your life has been disrupted in many ways. Save yourself the hassle. Sell your wrecked car NOW to DamageMAX – and keep the repair check from the insurance company. You don't have to fix your wrecked vehicle, sell it instead to the wrecked vehicle experts at DamageMAX!
DamageMAX is the leading buyer of damaged, wrecked and inoperable vehicles. For an immediate cash offer for any damaged car or truck, call (888) 629-2137 or visit www.damagemax.com.