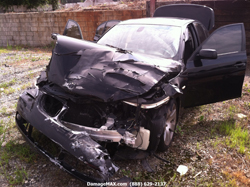 Here is a great article that was featured on Bankrate.com and Foxbusiness.com that provides guidance to consumers that may have a total loss vehicle.
Great advice…but what if your vehicle is not a total loss? How do you know if your vehicle qualifies for a total loss? Most of the time the consumer has no say in this matter and your insurance adjuster makes decisions behind the scenes and sends you an email or calls you later to avoid confrontation. Many states have a total loss threshold or a formula the insurance company uses to decision a vehicle for total loss payout. You can find a guide to your state's total loss methodology here.
If you are being told by your insurance company that your wrecked vehicle is not a total loss and you don't want it back - you can sell it as-is and keep your repair check. Most people think a wrecked vehicle is junk – THIS IS NOT THE CASE. In fact, your damaged vehicle is probably worth hundreds, sometimes thousands of dollars just for what's left of it–significantly more if it can be rebuilt and sold again.
If you want to sell your wrecked vehicle, DamageMAX.com is the place to come and find out how it can be done. DamageMAX.com is the leading buyer of damaged, wrecked and crashed vehicles of all types. We buy anything from a Rollover to a Range Rover and have purchased vehicles from $65 - $65,000.
If you read the article we shared from FoxBusiness.com they emphasized the need for an educated decision. You really can't make one without knowing what your wreck is worth "as-is", so call DamageMAX.com for a value on your wrecked vehicle.
Call (888) 629-2137 or visit DamageMAX.com for a free quote.
Towing is always free with DamageMAX.com