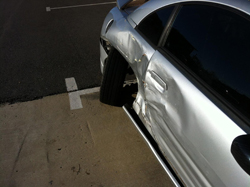 2014 is here people and there is a better alternative to fixing that wrecked car and eating that $1000 insurance deductible!
Turn that damaged vehicle into fast cash, take your insurance repair check and go get something new.
Why go into your pocket for $1000 so the insurance company can fix the same old car you have been driving. Here are four great reasons why you should sell your damaged vehicle now:
It has too many miles on it, why fix it?
You would like to get something else to drive
You are going to be with no wheels for a few weeks while they fix it
You can think of much better ways to spend $1000 of your money right now
You don't have to take a thousand dollar loss because you had a fender bender. Turn that damaged vehicle into cash by selling it to DamageMAX.com.
DamageMAX pays the MAX for any damaged vehicle, anywhere. If we buy your car, we'll even pay the towing and storage bill and get you cash.
Call (888) 629-2137 or visit www.damagemax.com for an immediate cash offer for your vehicle.
DamageMAX helps you save your insurance deductible! Sell your damaged car today!