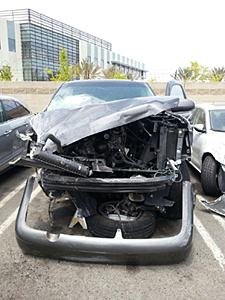 You were taking a nice relaxing vacation when you took a wrong turn and found yourself in the middle of the latest summer blockbuster as giant robots reeked havoc on your vehicle! The good guys won in the end but your vehicle is toast! Everyone had a happy ending but you right? WRONG!
DamageMAX is here to help! Selling your wrecked vehicle to DamageMAX is fast and easy. DamageMAX pays top dollar for your wrecked vehicle regardless of condition. Visit www.damageMAX.com or call 888-629-3127 today for a FAST, FREE, NO OBLIGATION quote on your wrecked vehicle. If you decide to sell to us we will pick up the car for FREE, tow it away for FREE, and handle ALL title paperwork for FREE and hand you a check for your broken or wrecked vehicle.
DamageMAX is the leading national buyer of damaged, broken and problem vehicles in the USA. For more information, visit www.damagemax.com and experience the DamageMAX Difference!