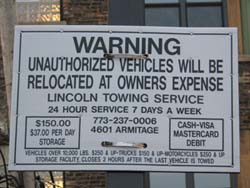 Today I watched another would be DamageMAX customer get duped by a storage yard in Boston, MA. He had a 2006 Mazda 6 with low mileage that was in a wreck. Unfortunately he dropped his collision coverage shortly before the wreck and his vehicle would cost far more to fix than he & his wife were willing to spend on an 8 year old vehicle. The good news is, the vehicle was worth quite a bit of money damaged, even though it was not drivable…
When we first started our conversation, Bob was on a mission to get the best price he could for what was left of his car. He thought he had lots of time to shop the internet and hit several companies including ours. Our first question was "where is the vehicle being stored?". The purpose of this question is purely for the benefit of the consumer (Bob) because we know the storage yard will always get their pound of flesh. We are always relieved when the customer tells us that the vehicle is at their home or some other "friendly" location where a daily storage tab is not amassing. Bob told us that the vehicle was stored at a body shop that tows cars and that he knows the owner who assured him "not to worry about storage". This is an IMMEDIATE red flag to DamageMAX because we see hundreds of customers each month with scenarios exactly like this one where the shop turns on the customer and hits them with a bill when they try to remove the vehicle from the property.
So Bob ended his week-long pursuit of getting top dollar for his damaged Mazda 6 with DamageMAX being the highest bidder! He figured he had lots of time to shop for the best deal and accrued 7 days of additional storage charges, unwittingly.
So here's the punchline…the Tow Yard hit Bob with a $700 storage bill and forced him to sell his car to them for far below the price that DamageMAX offered. Bob got less money after all the work he invested and all the haggling because he let his guard down and did not make a quick decision. If your car is wrecked and in a Body Shop / Towing / Impound facility, you are always getting charged. There is "rarely" an exception and if the shop that has possession of your car, they have control of it and it is a paycheck whether or not they get a chance to fix the vehicle. It's pretty sad that shops look to offset a lost repair opportunity by gouging an unsuspecting consumer. Especially, after that consumer has been told not to worry about storage charges. What they should say is what they mean…"I promise not to charge you if you do exactly what pleases me"!
Selling a wrecked car is fast & easy if you call DamageMAX.com.
Call DamageMAX.com first and let us help you navigate the "shark infested" waters of the towing & storage world.
We give advice for free, whether or not we buy your vehicle.
DamageMAX.com is proud to be affiliated with CarBUYERUSA.com we buy any car, from Rollovers to Range Rovers.
Call 888 629-2137 for a free, no obligation quote.