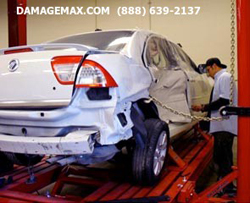 More commonly referred to as a "tear down" for its' similarity to ripping off the bad parts until you get to the good ones. Most collision repair shops do it to determine if there is hidden damage that they should include in the repair estimate that they agreed to perform at NO CHARGE. It only becomes a problem if the shop tears apart your vehicle and you elect to SELL YOUR DAMAGED VEHICLE instead of repairing it! That is because the collision shop will now ask to be reimbursed for the tear down charges, plus the tow, plus daily storage fees and you are effectively prevented from selling your damaged car because they have you over a barrel financially.
You might even have to forfeit your wrecked vehicle just to get out of having to write another check.
If you have had an accident and you are undecided on what to do, remember that you have the right to sell your car "as-is". The body shop will not give you a competitive price to buy your car because they don't have to and you can't remove the vehicle without paying them. Your car is now in pieces and you are stuck with what they give you, right? WRONG! DamageMAX.com will tell you straight up what your damaged vehicle is worth in it's wrecked form, where it sits. At DamageMAX.com we value hundreds of damaged vehicles per day ABSOLUTELY FREE and PAY MORE than other damaged vehicle buyers because our network of buyer is the biggest and best.
If you need a fast value for a wrecked car or truck, call DamageMAX.com at (888) 629-2137
DamageMAX.com can help you get the most out of your damaged vehicle and help you make an educated decision by investing those "would be"repair dollars in something new to drive.
Don't let the shop tear down your damaged vehicle until you call DamageMAX.com for a fast price quote. If we buy your damaged car or truck we will even pay the towing and storage charges.
NOTE: a damaged vehicle that is "torn down" is worth 10% less than if the parts were left on it. If you are told it will be worth more, you are being misled.
Call (888) 629-2137 for an immediate cash offer on your damaged vehicle.