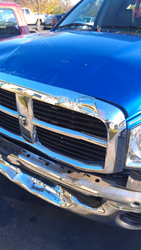 You just had an accident and got more bad news…your insurance company decided to repair your vehicle instead of total it. Instead of getting a check, now you have to write one for the $1500 deductible, plus you are going to be without a vehicle for two weeks with no rental car reimbursement – more out of pocket expenses!!! If you only had another alternative…
STOP – DO NOT FIX YOUR DAMAGED VEHICLE!
DamageMAX will total your car immediately. There are no charges or hidden fees. Here is how it works:
Send us a copy of your collision repair estimate
Send us pictures of your vehicle along with a brief description
DamageMAX will make an offer to purchase your wrecked vehicle "as-is"
Sell your WRECK and keep the repair CHECK
That's right friends, you will get 2 checks instead of just one and you will be out of that wrecked vehicle and on your way to buying a new vehicle within hours. It's easier than you think and a much better financial option than PAYING to fix your wrecked vehicle.
You just wrecked your car, don't wreck your bank account – get money for your damaged vehicle and keep the insurance repair check.
Experience the DamageMAX Difference today at (888) 629-2137 or visit www.damagemax.com.