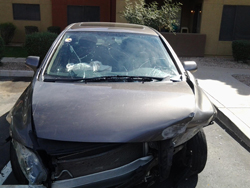 Most people today really don't understand that their damaged or broken car is a valuable asset, even at the end of it's life. Hence the name, end-of-life vehicles or ELV's.
ELV's can be worth hundreds, sometimes even thousands of dollars and people don't know it! Most of the time, damaged vehicles are abandoned to a tow or scrap yard, or the body shop in favor of relief from storage when the broken vehicle is worth more by the pound than the tow and storage bill. Older damaged vehicles may be worth significantly more than that for the frame and VIN if sought after by collectors or someone restoring that particular type of vehicle. Later model vehicles are typically in higher demand for their undamaged components and power train if still usable.
Here is a quick guideline
Domestic Vehicles
2002 & older = $250 - $5,000
2003 – current = $1,500 and UP
Import Vehicles
2000 & Older = $250 - $7,500
2001 – current = $2,500 and UP
Drivable vehicles are worth $ more
If the vehicle has less than 100,000 miles there is a good chance that it will get fixed and put back on the road. Some vehicles are repaired with significantly more mileage if those vehicles are newer and have a substantial resale value like luxury and performance cars. There is a diminishing return that deters automobile dealers from making these repairs if the mileage is high. Mileage is the key measurement for a vehicles age and expected service life. Other factors like accident history, title brands like flood, salvage or theft and overall condition will weigh heavily on what your vehicle can be sold for in damaged condition.
The key to selling any vehicle is to find the best audience for what you have to offer. For damaged, broken and inoperable vehicles, DamageMAX is your source. DamageMAX pays MAXimum value for damaged vehicles.
For a fast, free quote call 888-629-2137 or visit damagemax.com