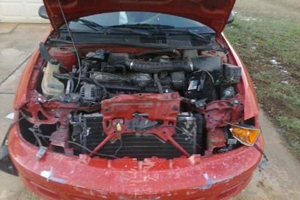 You just wrecked your car and it's worth nothing to you – why? Because it won't take you anywhere…you can't get from point A to Point B…you can't even get to work! How are you going to make payments, never mind get the car fixed?
What are you going to do?
First, you can call DamageMAX. DamageMAX will give you an instant value on your wrecked car. Every DamageMAX quote is a guaranteed offer to purchase and is good for 7 days. Plus, if DamageMAX buys your vehicle, we tow it away for absolutely free. There are no hidden fees or charges and no surprises – ever! If that sounds good, it gets even better! DamageMAX will even pay off your loan to get your title.
If you need a value on a wrecked vehicle, there is no KBB, Bluebook, or any source that will give you an instant figure that you can take to a dealer for a trade-in or take to the bank for a deposit. DamageMAX is the KBB of damaged cars and damaged trucks!
DamageMAX buys wrecked, broken and inoperable vehicles all over the USA. If you wrecked your car or truck and you are in a bad spot financially, call DamageMAX and turn that wrecked vehicle into cash.
Contact one of our certified consultants at 888-629-2137 or visit www.damagemax.com day or night for helpful information on how to sell your wrecked car or truck.
Experience the DamageMAX Difference today!