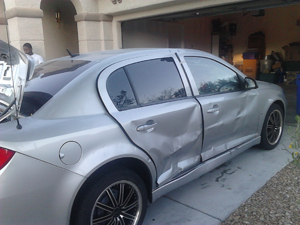 Was your vehicle wrecked and the quote the body shop gave you made your wallet queasy? Don't let it sit at the body shop or storage yard and collect dust while they empty your wallet. Most auto shops charge daily storage fees and sometimes only post the fees in the fine print of the estimate you signed. Sometimes those fees are intentionally hidden or they offer that they don't charge storage as long as you repair your car with them. If you decide not to repair the vehicle - that's when the storage bill comes out! Beat the storage yard run-around and sell your wrecked car today!
Call DamageMAX at 888-629–3127 or visit DamageMAX.com for a fast, free, noobligation quote. DamageMAX buys ANY wrecked vehicle and will even pick up the car for FREE.
Sell your car fast and easy with DamageMAX. It will make you and your wallet feel better?
DamageMAX is the leading national buyer of damaged, broken and problem vehicles in the USA. For more information, visit www.damagemax.com and experience the DamageMAX Difference!