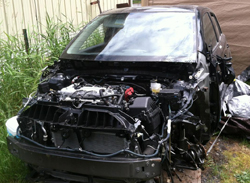 Did you just wreck your car and aren't sure if you want to get it fixed? Don't wait, sell your wrecked car now! You car depreciates in value every day and with the 2014 model years starting to roll out the price is going to take a MAJOR hit. Sell your wrecked car today now before it's too late.
DamageMAX is that place! We buy ANY WRECKED car. Call 888-629-3127 or visit damageMAX.com today! Certified Damagemax agents are standing by 7 days a week to give you a FAST, FREE, NO OBLIGATION quote on your wrecked vehicle. If you decide to sell to us DamageMAX will even pickup your wrecked vehicle FREE of charge!
DamageMAX is the leading national buyer of damaged, broken and problem vehicles in the USA. For more information, visit www.damagemax.com and experience the DamageMAX Difference!