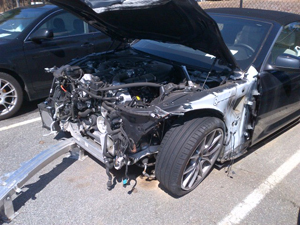 Whether you choose to sell or repair your vehicle, the key is to make a fast, deliberate decision about what to do with the vehicle and keep the storage charges to a bare minimum.
The storage yard is the enemy of the consumer with a damaged vehicle. It is their job to get as much of your money as they can and prevent you from getting your car back. Storage yards are predatory by nature but DamageMAX is their only natural enemy! Folks, the storage industry does not like DamageMAX and they do not want you to sell us your vehicle because it is bad for their business. The average storage and tow bill paid by INSURANCE COMPANIES is almost $500. Insurance companies have literally thousands of employees and vendors working to make sure your vehicle gets off the clock at the storage yard. If you don't have insurance coverage, nobody is on your side. The insurance company can't help you and once the storage yard finds out that you have no coverage, you are going to get sacked – big time! We see it every single day, hundreds of times a day!
What can you do?
First, if you wreck your vehicle, DO NOT tell the storage yard anything! It is not their business if you have coverage. Take charge and be decisive.
Second, call DamageMAX immediately for a fast, free price quote. We will buy any damaged vehicle, anywhere and we will take your car out of storage and tow it for free. We even pay the storage charges when we buy your car!
Third, don't procrastinate ! Your car is wrecked and you need to make a decision TODAY – fix it or sell it! DamageMAX can help make that decision quick and easy by consulting with you – absolutely free! We will tell you what your wrecked car is worth, what the fair market value of the vehicle is after repairs and help estimate the cost of repairs so you can decide within minutes the best course of action for you!
DamageMAX is on your side. Call 888 629-2137 for a fast, free no obligation price quote or visit www.damagemax.com for more information.
Please call us for any reason if you have had a wreck and are not sure what to do. Our damaged vehicle consultants are standing by ready to assist at no cost.
Experience the DamageMAX Difference